Vitamin Laden Fruit Soups
from Around the World
It sounds like a misnomer, but fruit soups are essentially heartier version of a smoothie, served in bowls, and they make for a surprising addition to solo suppers and dinner parties alike. They are delicious and easy to make. Introducing them into your diet comes with health benefits for a number of reasons. They are rich with fibres and vitamins. They strengthen your immune system and improve digestion at the same time, which is an odd combination indeed. They help your muscles regenerate faster after a workout, and they are a great source of energy. All this is science – you know, fruits for power and soups for digestion. I'll be so bold as to sort soups into the superfood category.
Fruit served as an inspiration to culinary artists since ancient times, and today, they are just as sought after as ever. If anything, getting your daily dose of fruits has become more available, with high-tech juicing methods. The only downside is how easy it is to overstock on fruit, compared to their short shelf time. And indeed, too much fresh produce goes to waste in the average household, thanks to overbuying. Yet, a large part of the problem is the giving of fruit as a present, a tradition with deep roots all around the world. If you've just received a box of fruits, and you don't want it to spoil like it usually does, try one of these tasty fruit soup recipes from around the world.
Hungarian Cold Fruit Soup
Adapted from: The Wandering Chef
Needs:
500 ml water
500 ml dry red wine
1 l canned fruit juice (preferably sour cherries)
2-3 cinnamon sticks
2 sliced lemons
2 sliced oranges
4 tbsp sugar
2 dl sour cream
3 tbsp flour
Fresh fruit to garnish
Salt
Cook everything except the sour cream and flour until it boils. According to your preferances, add more wine, sugar or juice. In the meantime, mix the 2 dl of sour cream with the 3 spoons of flour in another pot, adding a couple of spoons of the soup base in the mix. Start gradually whisking it into the boiling soup until it thickens, and then bring everything to a boiling point again. Strain the soup, and add the fruit garnish. Refrigerate until serving.
Scandinavian Fruit Soup
Adapted from: Food.com
Needs:
6 cups of cold water
¾ cup of dried prunes
¾ cup of dried apricots
2 lemon slices
3 tbsp tapioca
Cinnamon
1 cup of sugar
2 tbsp raisins
1 sliced apple
1 tbsp dried currants
Fill a pot with cold water, dried prunes and dried apricots, leave it for half an hour. Add the lemon slices, tapioca, cinnamon, and sugar, and cook until it boils. Reduce the heat, cover the pot, and let simmer for 10 minutes, occasionally stirring it with a wooden spoon. After that, add the raisins, apple, and currants, still stirring, and give it another 5 minutes to simmer. Pour the soup into a large serving bowl and let it cool to a room temperature.
Palestinian Fruit Soup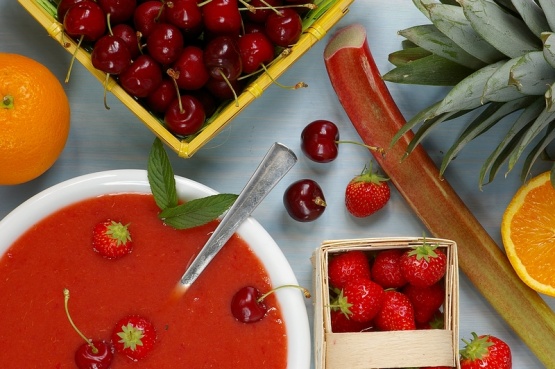 Adapted from: Food.com
Needs:
6 cups of water
2 peeled oranges
2 sliced rhubarb stalks
4 pineapple slices
1 cup strawberries
1 cup cherries (pitted)
1 cup honey
½ tsp cinnamon
2 tbsp lemon juice
1 cup sour cream
A pinch of salt
Fill a saucepan with water, oranges, rhubarb, pineapple, strawberries, cherries, honey, salt, cinnamon, and lemon juice. Simmer all the ingredients for about 30 minutes and then purée your fruit soup. A potato masher would come in handy. Finally, let the soup cool off, and mix in the sour cream. Keep it cool until serving and enjoy!

This article was written by Kate Flannery, a foodie globetrotter. She recently received a piling box of fruits, and has been exploring unusual fruit recipes since, which led to this piece on fruit soups. The Scandinavian soup is her favorite.
For more articles of similar interest:
Thank you for reading this article. We hope you found it informative and beneficial. We encourage sharing with your friends and family. Click here to return to the top of this page.